Donald Trump Attacks First Responders as He Golfs
As Puerto Ricans suffer in a humanitarian crisis and San Juan's mayor wades flooded, waste-riddled streets to find and help stranded residents, President Donald J. Trump, whose utter failure to help Puerto Rico after Hurricane Maria destroyed the island lengthened an unnecessary disaster, relaxed at his Bedminster golf club, played a few rounds, and slandered Mayor Carmen Yulín Cruz on Twitter, spreading falsehoods and showing his vile hatred whenever a woman – or a Latina – dares criticize his slovenly laziness.
In the two weekends since Maria ravaged Puerto Rico, Donald Trump played golf, despite his many Twitter promises to never play golf when president, especially not during a crisis.  Puerto Ricans have little food, almost no clean water, hours of wait time for gas to try to navigate ruined roads so they can go to work, no electricity, and no ability to communicate with others as cell phone towers have almost all been destroyed.
Can you believe that,with all of the problems and difficulties facing the U.S., President Obama spent the day playing golf.Worse than Carter

— Donald J. Trump (@realDonaldTrump) October 14, 2014
So, naturally, Trump finds it right to play a few rounds of golf and mingle with the millionaires, billionaires, and lobbyists who now frequent his golf clubs, paying the Trump Organization – from which Donald J. Trump still profits – hundreds of thousands a year to enjoy face time with the president, something no other American enjoys.
The populist president enriches himself as some of the poorest Americans starve and try desperately to avoid death.
Mayor Cruz, Committed to Puerto Rico
Luckily, those in Puerto Rico have public servants committed to livelihood.  San Juan Mayor Carmen Yulin Cruz has put her life on the line by wading through toxic waters with a bullhorn to find those stranded by Maria floodwaters.  She also lives in a shelter with others who lost their houses, sleeping on a cot, and eating the same food to understand how her constituents suffer.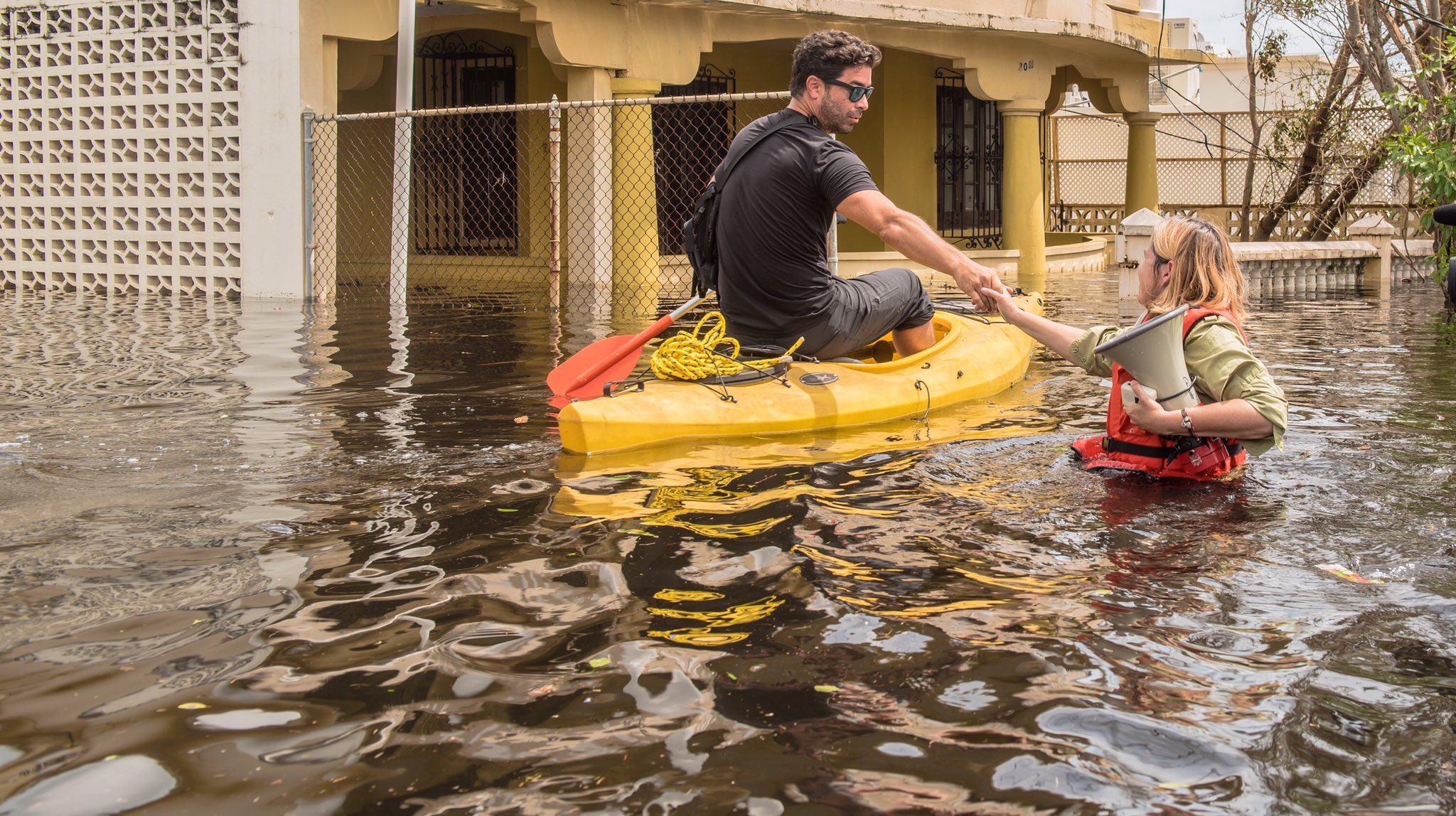 Seeing firsthand the suffering of her fellow Puerto Ricans, Cruz, desperate for help, used the national media to outline the severity of the crisis and urge Trump and his administration to actually provide the island with help.
In response to the Trump administration saying "…it is really a good news story in terms of our ability to reach people and the limited number of deaths that have taken place in such a devastating hurricane," Cruz said:
"Well maybe from where she's standing it's a good news story.  When you're drinking from a creek, it's not a good news story. When you don't have food for a baby, it's not a good news story. When you have to pull people down from buildings — I'm sorry, that really upsets me and frustrates me.  I would ask [Duke, acting DHS Secretary] to come down here and visit the towns and then make a statement like that, because frankly, it is an irresponsible statement in contrast with the statements of support that I have been getting yesterday when I got that call from the White House. Dammit, this is not a good news story. This is a 'people are dying' story. It's a life-or-death story."
This plea did not settle well with Trump.  Angered by a Latina woman criticizing his response to an American tragedy, has, as usual, took to Twitter from the comforts of an opulent resort and slandered the mayor.
The Mayor of San Juan, who was very complimentary only a few days ago, has now been told by the Democrats that you must be nasty to Trump.

— Donald J. Trump (@realDonaldTrump) September 30, 2017
…Such poor leadership ability by the Mayor of San Juan, and others in Puerto Rico, who are not able to get their workers to help. They….

— Donald J. Trump (@realDonaldTrump) September 30, 2017
His tweets show hypocrisy and unbridled anger at person suffering with Puerto Ricans.  He relaxes as a resort; she sleep on a cot and tries to help constituents find food.  Trump plays golf and feasts; Cruz cries as she sees, firsthand, the island's pain.
Trump has no understanding of Puerto Rico's suffering.  He sees negative news headlines and grows angry that anyone would dare criticize him.  That the critique comes from a Latina woman only makes matters worse.
Unfit for Office
He's a man not fit for office.  No worthwhile president would play golf and slander a first responder on Twitter as she seeks only to raise awareness and procure help for her suffering people.
Trump doesn't care about those in pain.  He doesn't care about Americans, especially Americans with darker skins and without electoral votes.  He's a worthless president whose actions bring greater shame on our country with each day that passes.